Latest News
Saladworks Coming Soon to Warwick, RI
February 25, 2022
Existing Saladworks franchisees, John and Aileen Pisaturo, were featured in the local news regarding their new Saladworks location coming soon to Warwick, RI. Check out their reasoning for opening a second location in less than 2 years. We are so excited for them, and we can't wait for their restaurant to open!
---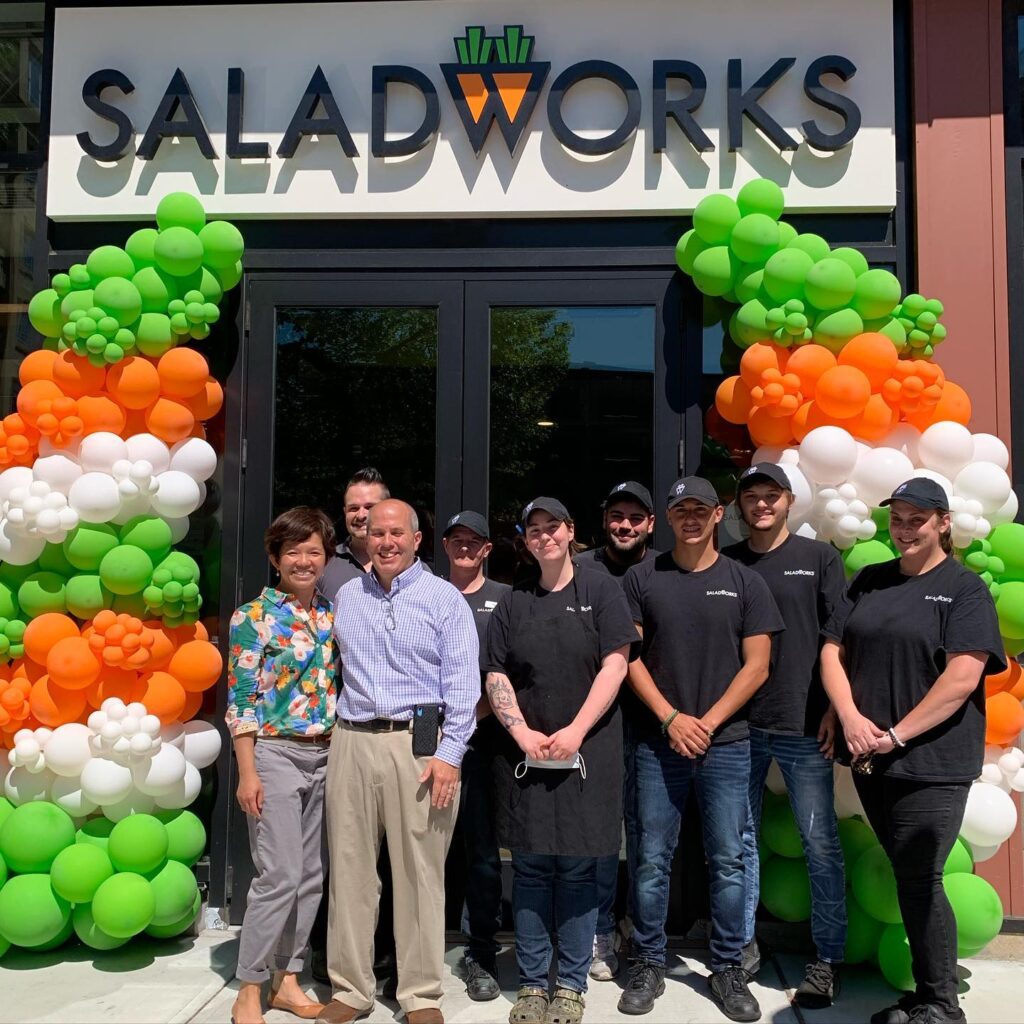 Cranston residents John Pisaturo, 50, and Aileen Soriano Pisaturo, 47, weren't planning to expand their Saladworks restaurant so soon, but the opportunity was too good to pass up when they saw that the previous Pier 1 Imports building on Bald Hill Road was available to lease.
"It's a prime location," said John, who has been in the restaurant industry for 31 years.
He noted that the building had incredible visibility from the road and was near larger stores such as Target and could potentially draw in more customers. Their goal is to have the restaurant open by April.
John and Aileen first became restaurant owners during the pandemic when they opened a Saladworks on Fountain Street in Providence. The couple chose this franchise due to their interest in vegetarian and vegan food. Since opening, the couple has received great support from the community.
"We're very grateful," said Aileen, who works as a physician specializing in outpatient palliative care. "We wouldn't be making it out of the pandemic without the community."
Aileen said customers tagged Saladworks on social media, which helped get word out about the business.
As for the new location, John said several friends who have businesses on Bald Hill Road as well elsewhere said Bald Hill Road brings in a lot of people on the weekends.
"Bald Hill is one of the busiest roads in the state," John said.
He explained that the Providence location doesn't see a lot of foot traffic on the weekends due to the lack of parking and being primarily located in the Downtown Providence business district. The two hope the Warwick space will draw more families into the restaurant.
The Saladworks franchise started in 1986 and offers customers over 60 ingredients which they can use to build their salads. Whether you want a freshly made wrap, sandwich, soup or grain bowl, the restaurant provides a variety of options for customers – including chef-inspired signature salads. John described the ordering process similar to Subway or Chipotle and that individuals can order food for delivery through DoorDash, Grubhub, Uber Eats and ezCater. The store will have a shelving area for online orders so individuals can simply walk in and grab their food.
The Providence Saladworks sees between 100 and 115 customers a day, Monday through Friday with that number increasing if the restaurant is providing food to the hospitals such as Hasbro Children's, Rhode Island and Miriam Hospitals. John noted that business is slower on Saturday and Sunday, and the couple anticipates the Warwick location will see a higher volume on weekends; they also hope to continue the hospital catering services in Warwick.
The new location will have 48 seats and hours of operation will be similar to the Providence location. While the hours are not set in stone, John said the restaurant would likely be open from 11 a.m. to 9 p.m. on weekdays and Saturdays. Sunday hours could be from noon to 6 p.m.
While some employees from the Providence location are transferring to Warwick, John hopes to hire 20 to 25 employees for Warwick. He is planning a job fair on March 4 and 5 from 10 a.m. to 3 p.m. Once the new location opens, he will be at the Warwick store to help work the kinks out, while popping into the Providence location two to three days a week; the locations are only sixteen minutes from one another.
John and Aileen plan to host several events prior to opening. Two days before opening, they would like to host a first responders night where local firefighters, police officers and nurses can order a complimentary salad. One day before opening, the couple will hold a friends and family VIP night where they will invite family and friends along with regular customers from their Providence location and people who have shared their posts on social media. The couple plans to invite local officials to the event and have a lettuce cutting ceremony where they chop a head of lettuce in place of a ribbon cutting ceremony.
The Warwick Saladworks is located on 1276 Bald Hill Rd Unit 130-A.
To read this full article on Cranston Herald, click here: https://www.cranstononline.com/stories/cranston-couple-to-open-saladworks-on-bald-hill-road,171746?fbclid=IwAR3qRy6c-VJYhMMHEJH5rrR5QYQxaDW07nB_mHc3RsJIiIvuRUymnDhIwfI
---
If you'd like more information about becoming a Saladworks franchise owner, please complete our Contact Us form on https://franchise.saladworks.com/#contact