Latest News
More Saladworks Restaurants open in Giant supermarkets
December 17, 2021
Under a partnership unveiled last year, The Giant Company has added WOWorks restaurant locations under the Saladworks and Frutta Bowls banners in four more supermarkets.

West Conshohocken, Pa.-based fast-casual chain Saladworks said yesterday that parent company WOWorks opened co-branded Saladworks and Frutta Bowls locations on Nov. 12 inside the Giant store at 2201 Cottman Avenue in Philadelphia and on Nov. 22 in the remodeled Giant at 7150 Hamilton Blvd. in Trexlertown, Pa.

In addition, a new Saladworks opened on Nov. 29 in the remodeled Giant supermarket at 2300 Linglestown Rd. in Harrisburg, Pa., and the first franchisee-owned store-within-a-store Frutta Bowls location opened on Dec. 10 inside the Giant store at 4377 Swamp Rd. in Doylestown, Pa.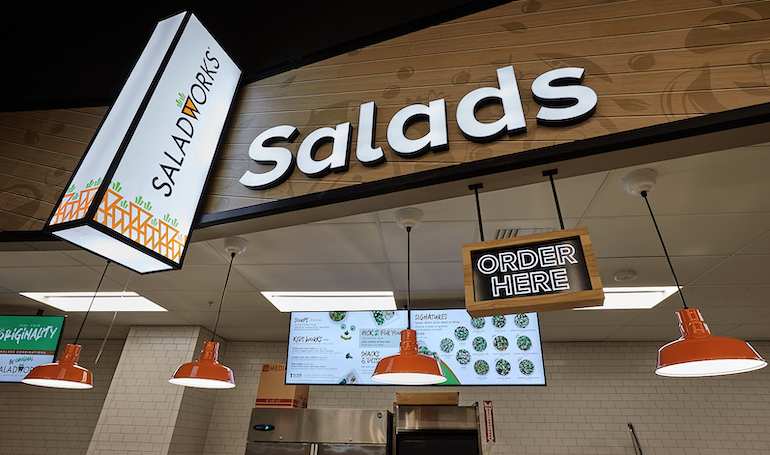 "We are thrilled to launch this Saladworks and Frutta Bowls co-branded restaurant inside Giant, as this showcases how we can open our two great healthy-halo brands together needing only 200 square feet — a perfectly sized restaurant for grocery stores," Kelly Roddy, CEO of restaurant operator/franchisor WOWorks, said in a statement. "This grocery store model is gaining traction because they are quicker to build out and open, have attractive back-end efficiencies and give customers more menu options covering all day parts to help increase store foot traffic."

Saladworks made its Giant debut in October 2020 inside the grocer's store at 3310 Trindle Rd. in Camp Hill, Pa. At the time, Saladworks said it planned to open several more locations in Giant stores in 2021. That includes a location in the food hall of the Giant Riverwalk urban flagship store that opened this past March in Philadelphia.

Saladworks serves customizable salads, signature salads, wraps, grain bowls, soup and a selection of grab-and-go items, with customers able to choose from 60 ingredients for made-to-order salads. Overall, the chain has more than 160 locations in 25 states and two countries, including outlets inside Kroger, Walmart and ShopRite/The Fresh Grocer stores.

WOWorks' Frutta Bowls offers on plant-based dining options with whole-food ingredients, including customizable bowls and smoothies as well as toasts and protein bites. The restaurant chain's website lists 36 locations in 13 states.

The Frutta Bowls outlet in the Doylestown Giant is the first restaurant under that banner and the first in-store site for Jordan Rideout and Curtis High, who own eight Saladworks locations in Pennsylvania and Delaware. "We are excited to offer Giant customers Frutta Bowls' menu of fresh, healthy smoothies, bowls and bites," stated Jordan Rideout, co-owner of Frutta Bowls at the Giant store in Doylestown.

The Saladworks/Frutta Bowls co-branded model is part of a store-within-a-store expansion plan to open multiple restaurant brands together in nontraditional locations, according to WOWorks. Via shared back-end operations and equipment, the concept provides design and buildout flexibility and added efficiencies, the company said.

Carlisle, Pa.-based The Giant Company, part of Ahold Delhaize USA, operates about 190 stores under the Giant, Martin's and Giant Heirloom Market banners in Pennsylvania, Maryland, Virginia and West Virginia.

https://www.supermarketnews.com/prepared-foods/more-saladworks-restaurants-open-giant-supermarkets
If you'd like more information about becoming a Saladworks franchise owner, please complete our Contact Us form on https://franchise.saladworks.com/#contact